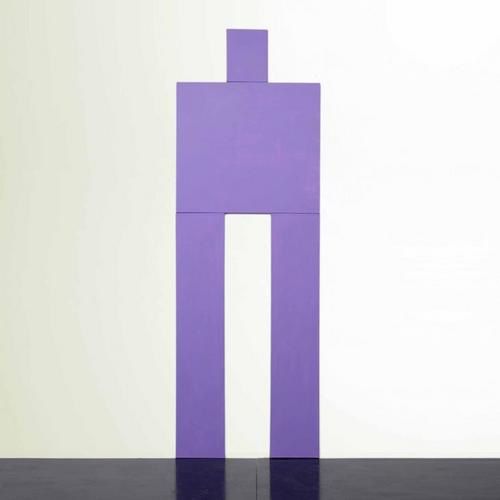 "Mystery Boga", 2006, Acrylic on canvas, in four parts, 268 x 91 cm

Joe Bradley's work reconfigures the daunting spectrum of minimalist painting with an endearing sense of humility and pathos. Arranging his canvases in the shapes of absurd and clunky figures, Bradley subverts the subtle grids of Ad Reinhardt and the pantone hued planes of Ellsworth Kelly, infusing traditional formalism with cartoon humour. Through this merger of abstraction and figuration, Bradley embraces equally the non-objective ideals of 70s art and a contemporary humanist approach to high culture.
Executed on cheap pre-fab canvases, and painted with intentional mediocrity, Bradley's paintings are immediately sympathetic in their impoverished aesthetic. Towering with a commanding primitivism – alluding to both totems and obsolete computer graphics – Bradley's works transact on the transcendent spiritualism of monochrome painting, instead offering an unnerving contemplation of unabashed dumbness.
In championing the abject, Bradley engages with the problems of painting itself. Each arrangement reveals the processes of theatricality and illusion, creating a sense of narrative and personal gesture through generic attributes of colour, line, shape, and composition. Behind their tongue in cheek parody, Bradley's paintings resolve the detachment of hard edged abstraction with an affectionate intimacy; each work commands mediation through its understated integrity.