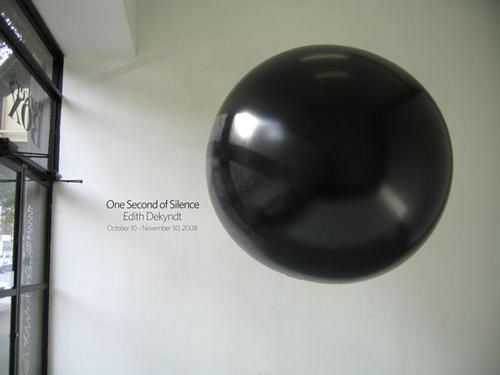 "Ground Control", Edith Dekyndt, 2008, polypropylene object,
helium, air, diameter 150 cm
One Second of Silence
Edith Dekyndt
October 10 - November 30, 2008
Parker's Box is delighted to present the first New York solo exhibition by Belgian artist, Edith Dekyndt.
The artist's practice is pluridisciplinary, involving video, photography and/or sculpture/installation, for example, according to the dictates of her preoccupations and whatever subject she may be exploring. In other words, like many artists whose work has been seen at Parker's Box, Edith Dekyndt chooses her medium according to the demands of an idea or project, rather than the opposite. While she may use degrees of technology to achieve her ends, her preferred territory of exploration is decidedly and refreshingly low tech. Often concentrating on the kind of visual phenomena that we constantly overlook in the world around us, Dekyndt frequently focuses on ambiguous, even ephemeral bits of matter that tend to teeter on the edge of what we may even read as anti-matter. In filming or photographing a transparent flag, pools of oil breaking surface on the Gowanus Canal, or the erratic movements of a tiny bubble of milk, Dekyndt's scrutiny is so detailed that its hyperrealism tips into abstraction.
Parker's Box
193 Grand Street
Brooklyn, NY 11211
Tel:718 388 2882
Fax:718 388 2882
info@parkersbox.com
Friday-Monday
1-7pm